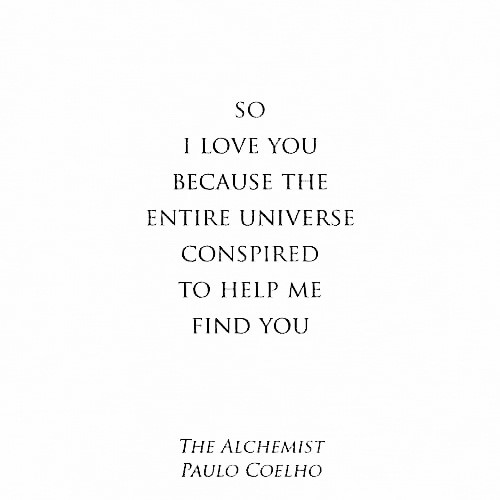 [Apologies for using English only for this story for now, I might update it with a Chinese version later when I feel ready :)]
[抱歉目前就只有英文版的故事, 以後有fu時會再補上中文版!
]
[I wanna put my feelings down here along the way to rememer and savor such precious memory of this love story like writing my diary, as well as sharing it with whoever came cross it and my close friends :)]
[在這裡寫這個故事是為了把當下的感覺記錄下來像寫日記一樣來紀念這段愛情故事並和有緣人及好朋友們分享 :)]
---
There is no word for this incredible experience that has happened recently.
He came all at sudden out of nowhere when I lost my hope for finding love and caught me off guard.
After being hurt and disappointed for so long with different guys in the past few years, I thought finding "true love" or "soulmate" is just a fairy tale being written over and over in movies, books, songs and poems. I didn't believe there is such a thing as "soulmate" anymore until now. He is another angel besides my ex.
I thought I have to settle for someone less who can't excite me and satisfy me in the ways I want from my heart, spiritually, mentally and sexually. I read them being described in words, hear them being told in songs and stories, and see them in movies. No one from the older generation around me seems to have the kind of long lasting passionate love. I didn't see anyone have that kind of passion and sparkling in their eyes around their partners in my family. Myself hadn't been able to experience that either for a long time or ever. I wonder is that it for my life? That I would never be able to find something like that during my life time? I know that kind of love is not the definition for our happiness but it's something I am so eager to have, with even just once, I can die for it, I thought.
On March 21, there was a guy messaged me on Okcupid saying he is interested in talking to me and his good friend invited him to visit Taiwan and he plans to visit this winter. The moment I read the message, I thought to myself huh another Western tourist coming to Taiwan to have fun and leave like other tourists, so I didn't feel really interested in getting to know him and I was very honest with him about that. The other thing turned me off was a picture of him showing off his muscles on his profile. I think guys like that are all shallow dickheads. It turned out he is the opposite of what I assumed. He later told me he was so disappointed at my reply and replied me with long messages trying to explain himself and why he felt we have so much in common from reading my profile, despites the fact that to me we appeared like the total opposite. Then I started to see he is a sincere and nice guy who genuinely wants to get to know me regardless he is not sure with his plan to Taiwan after reading his long reply. We started talking on my Facebook fan page every day and eventually do voice talking every day and later do video chatting every day for long hours.
To both my and his surprise, our similarities are beyond our imaginations. How? Here is the apparent part in his words when he first time messaged me after reading my profile:
1. I flip flop from introvert to extrovert. (That's how I described myself in my profile)

2. I appreciate arts/science, variety. (Same here)

3. I love to travel and learn about the world different cultures and people. (Same here)

4. I'm not religious but I do practice and believe in some of what Buddhism and Taoism have to offer. (That's what I said about myself)

5. I'm kind of weird in a sense that I don't fit in with the normal beliefs and lifestyles in this culture. (I am exactly the same way)

6. I have also been hurt in the past. (Same here)

7. I also injured my back over the summer...(My knees also got injured since 2014 and am still recovering from it)

(The following ones are my own summary of our other similarities)
---
8. We have striking similar life views and values that our match percentage is 99% as we answered more questions on Okcupid, which is something I never see before on there after being on there for so long.

9. As we chatted on, we found out we both have similar struggles and issues with our family, though we come from totally different cultures and continents.
10. We are both into the beauty of nature.
11. We are both struggling to get out the current place and state we are in right now.
12. We are both curious, interesting, fun-loving and humorous people.
13.We are both caring and loving people toward people we care about and love.
14. We are both the kind of people who is never satisfied with staying only at one place/city.
15. We both have a hard time getting up early in the morning…
So the list goes on and on. We also have bizarre and magical connection even with the long distance. He is an intuitive person for sure and came up with my previous neighbor's name and even the number of the street of my old address in his dream. When we talked about indie music, he said the exact the band name I was thinking about and was going to tell him in a few seconds...We haven't met in person but we are so connected emotionally and I can feel his emotions when he or me got upset on video chats. We are falling in love without meeting each other in person...
Both of us was not expecting to fall for someone so far away when we started talking. Both of us is so new to this strange online relationship. Miracle! I can ask for no more! To have such surprise in a strange way, to meet this man regardless the fact that he is so far away.
The inner similarity is one thing, and our physical attraction is another. We find each other irresistibly physically attractive as well. I am the whole package for him and vice versa. He is everything I have ever dreamed of for my dream guy. He has a pair of beautiful blue eyes. He is loving and caring. He is into outdoor. He is loyal. He is good at cooking, fixing and massaging. He has a sexy voice and body that turn me on. He has a handsome face! He finds me irresistibly cute and attractive. He likes me instantly. It sounds like too good to be true so far! Don't you think? Then I can't stop wondering sometimes about what if questions.
We are falling for each other hard just online...
He has the kind of smile makes my heart melt and skip a beat
I can ask for no more. Thank you universe for sending this wonderful man to me
How would this new and out of ordinary love story end? We don't know yet but both of us have a very good feeling about it and it would be a story to tell to my children and grandchildren (if later I have any) for sure! ;)
4/30/2016
(To be continued)